How To Select A Marble Fountain for Garden?
---
The Development History of The Fountain:
A fountain was originally a functional device that was connected to a spring or a water channel. It was used to provide drinking water and bathing and washing water for the inhabitants of towns and villages. Until the late 19th century, most fountains operated by gravity and required a source of water higher than the fountain, such as a reservoir or a ferry, to make the water flow or jet into the air.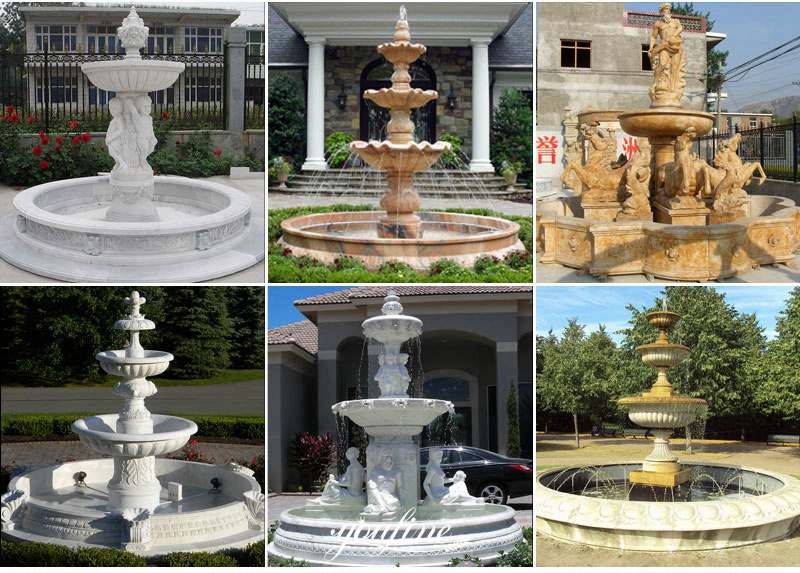 And after historical evolution and continuous development. Today, fountains are used to decorate city parks and squares, or in their own homes, and for leisure and entertainment. And created a variety of fountain designs to meet the decorative needs of different places. For example, fountains with lights and musical fountains, which could produce dramatic effects.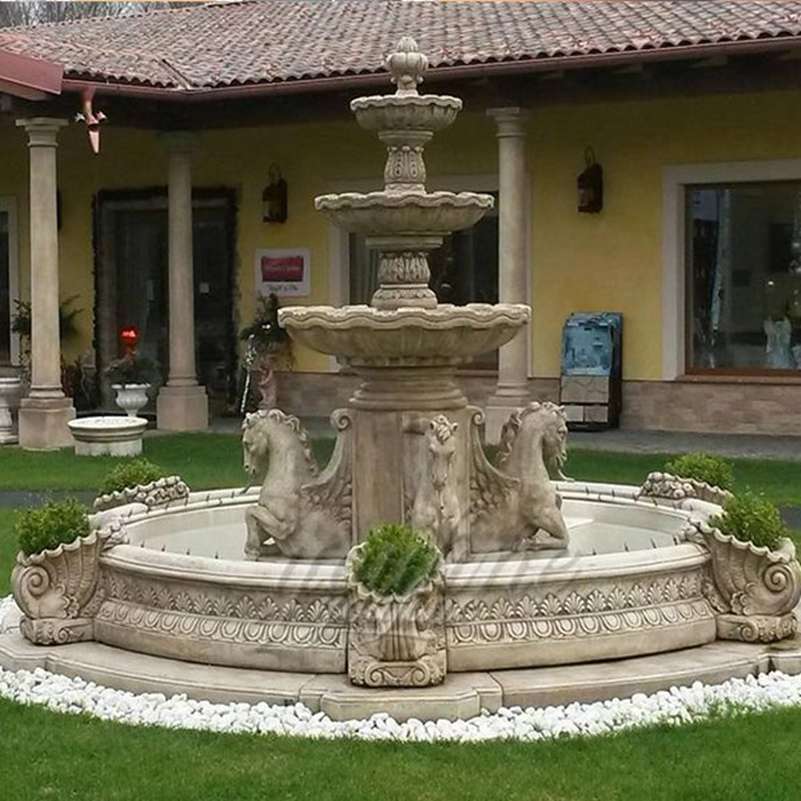 So how to choose a suitable marble fountain for your outdoor garden? Here is a guide for fountain selection.
Common Materials for Making Fountains
There are 5 common materials used to make fountains:
1. Natural stone
Including a variety of marble, granite, rock, and many other natural stones
A variety of natural colors to choose from
Highly durable and wear-resistant, could be used for hundreds of years
Heavier materials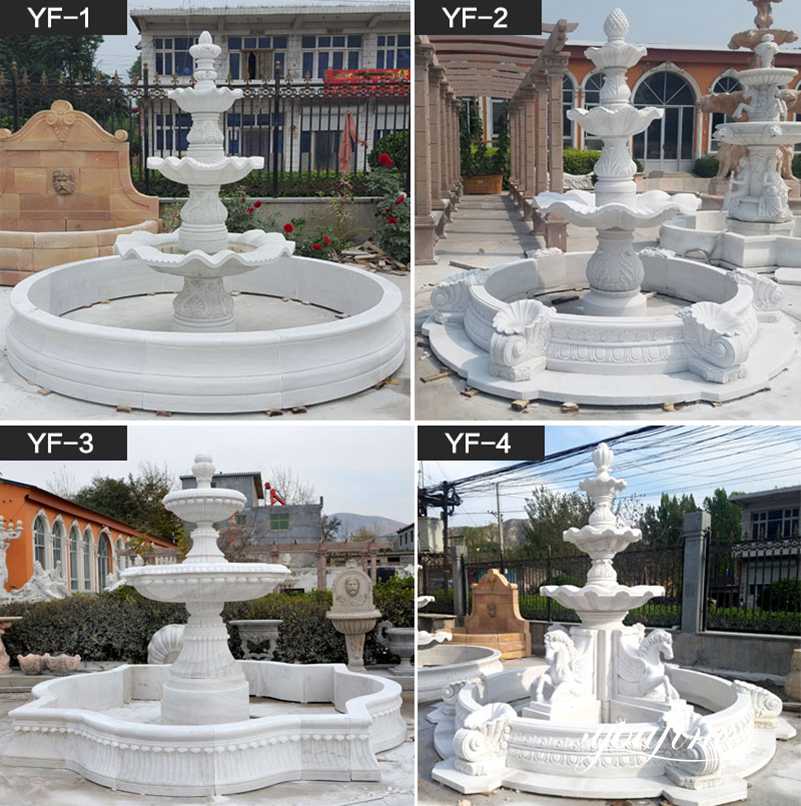 Durable, a very strong and delicate material
Modeling design is limited, most of them are statue fountains
Overtime would age and form a green patina to increase personality
Usually used in conjunction with other elements, such as a fountain pool made of stone
Best for permanent installation because it is heavy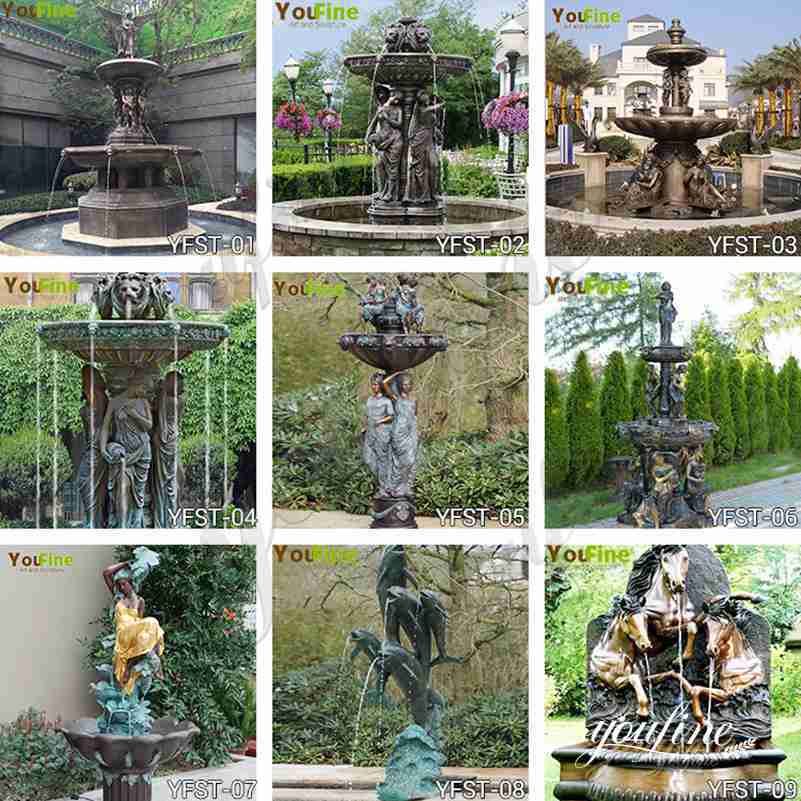 Durable, environmentally friendly material, lighter than the first two materials
Corrosion and rust-resistant
Easy to clean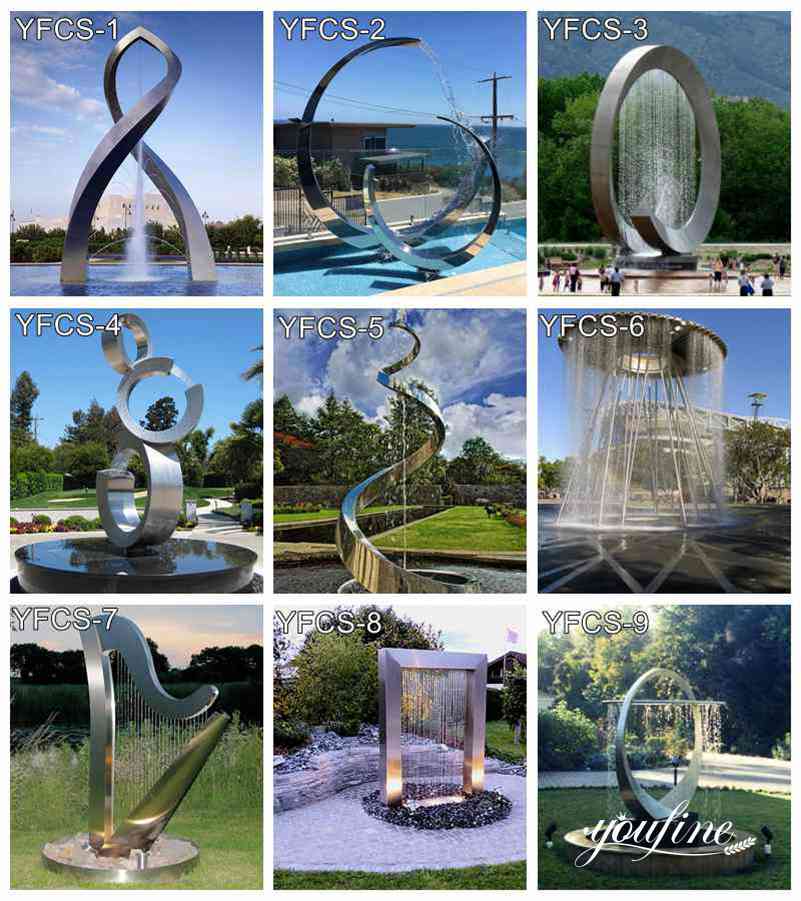 4. Fiberglass
Lightweight material
Various designs, but the short life span
5. Resin
Durable, budget-friendly option
Imitate the appearance of various natural materials
Why Choose Marble Fountains?
However, among the many material choices, I recommend that customers choose a fountain made of purely natural marble materials. Because marble is a natural stone, it is a very durable material. It has a life span of hundreds of years, which means that you have a marble fountain that could be placed in your garden for hundreds of years and passed down from generation to generation. The entire marble fountain still retains its original color.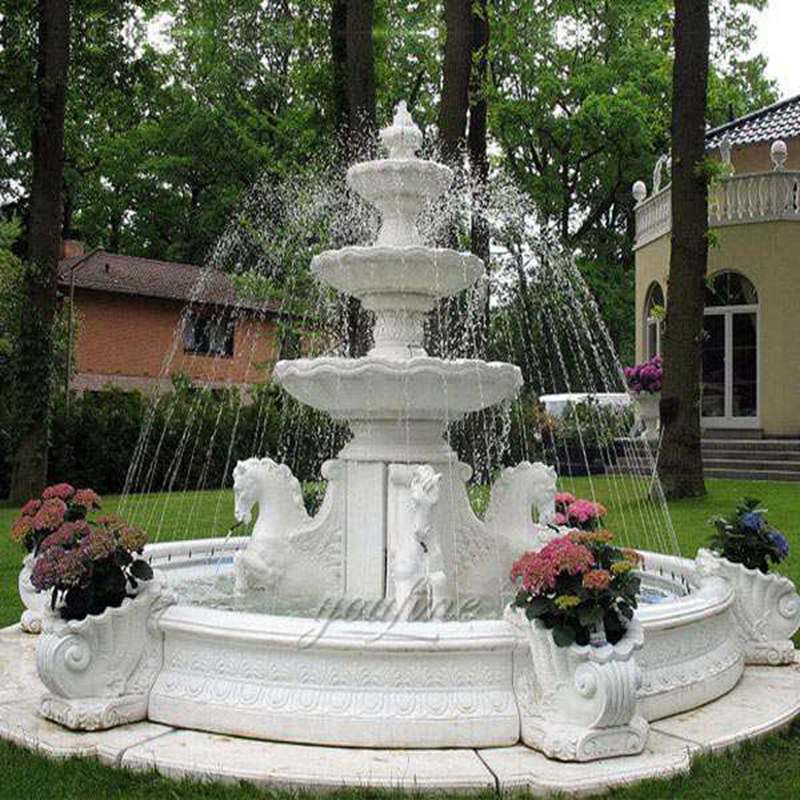 Secondly, marble fountains could come in any size or style you could imagine. Marble is a unique stone that comes in a variety of shades from dark to light. You could get a custom fountain in any size and design you want.
Points to Note When Choosing A Fountain
First, you need to consider the size of your outdoor garden. Then you would choose the right fountain based on your surroundings and the location of the water source.
Secondly, your budget issues. You need to determine your budget before you buy a fountain, then you would quickly choose a suitable fountain.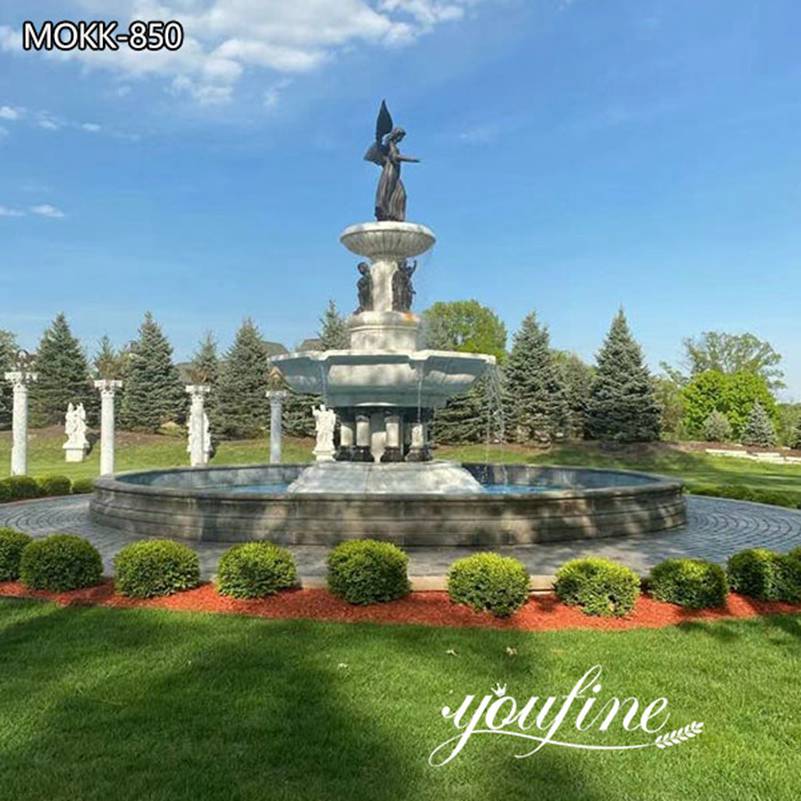 Then, you need to do the preparation work before the fountain arrives. Complete the foundation, prepare the installation tools and installation team.
Finally, and most importantly, you need to choose a reliable supplier for your fountain. A reliable supplier would provide you with beautifully carved fountains with the best quality and the best price. And there is also an after-sales guarantee service.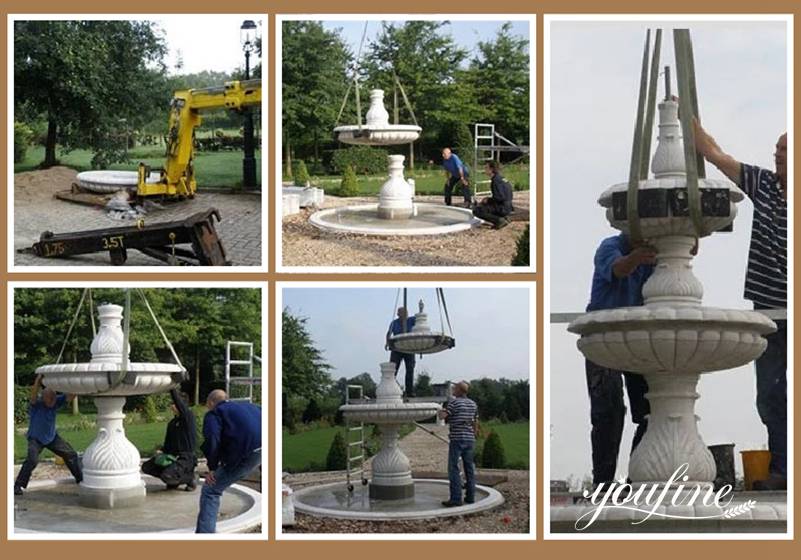 More Marble Fountains To Choose
YouFine Art Sculpture's marble fountain for garden consists of simple marble fountain designs, tiered marble fountain, statuary fountain, animal fountains, large fountains, wall fountains, ball fountains, etc. We could also make fountains of different materials, such as marble, granite, limestone, travertine or sandstone, and any other available stone and so on.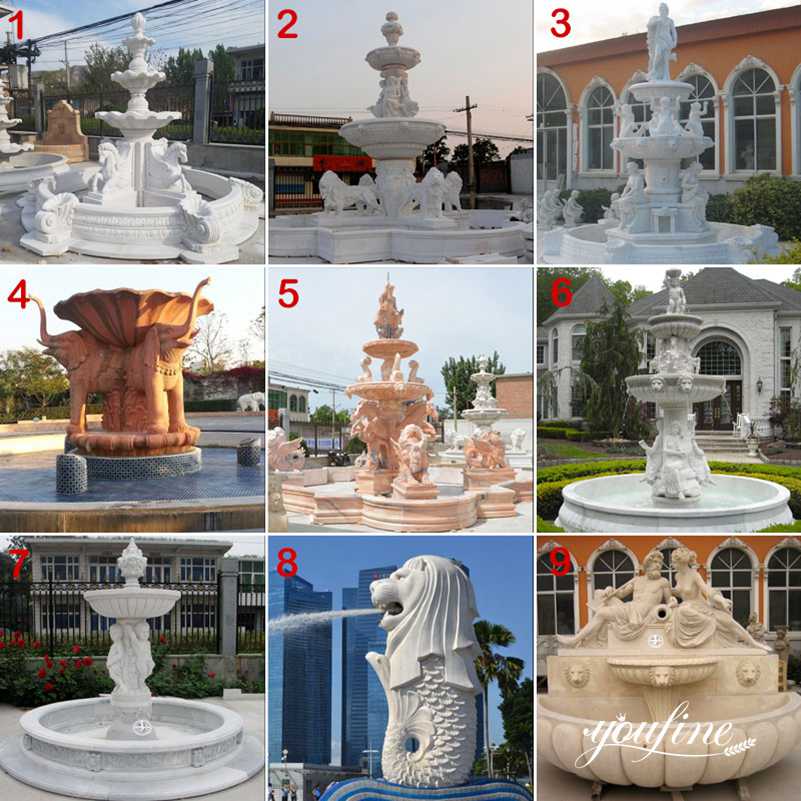 The following is some cases of marble fountains YouFine made for our customers, you could refer to:
1. Trevi Fountain for Bulgarian Customers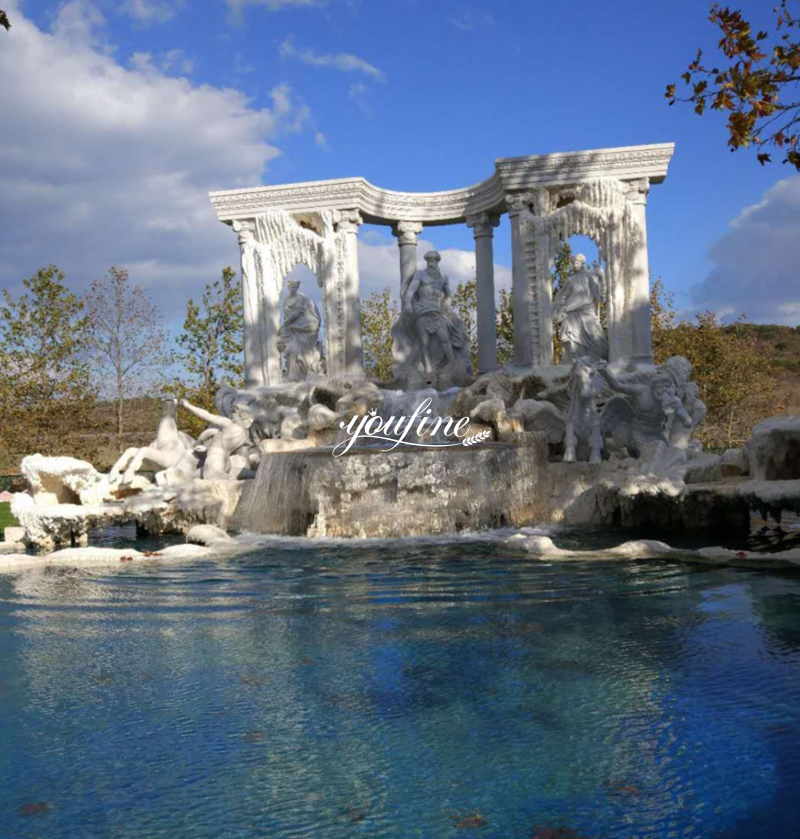 2.  Marble Lady Statue Fountain Irish customers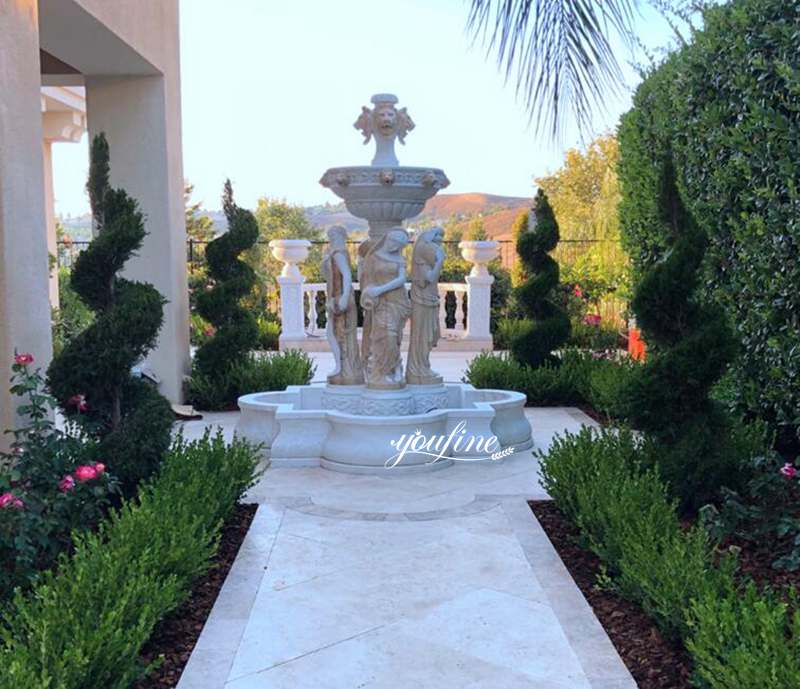 3. Custom Marble Fountain for Saudi customers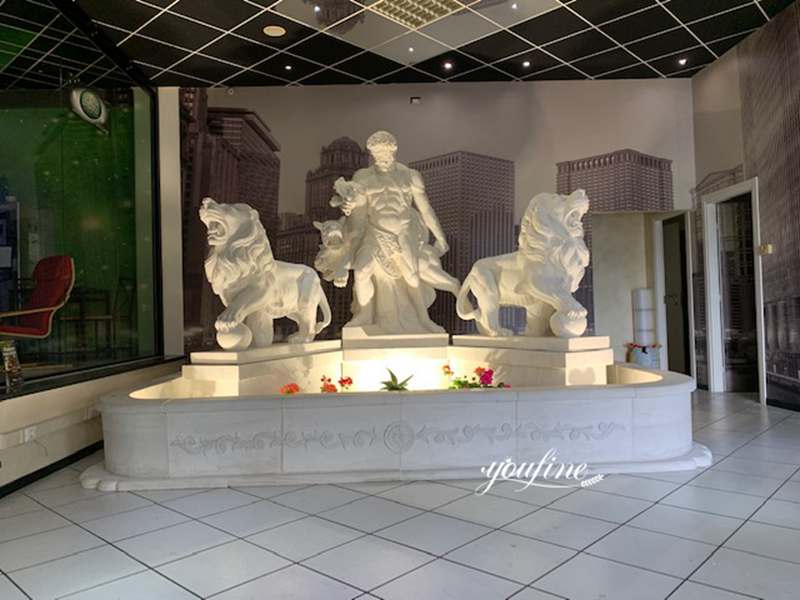 4. Marble Horse Fountain for American customers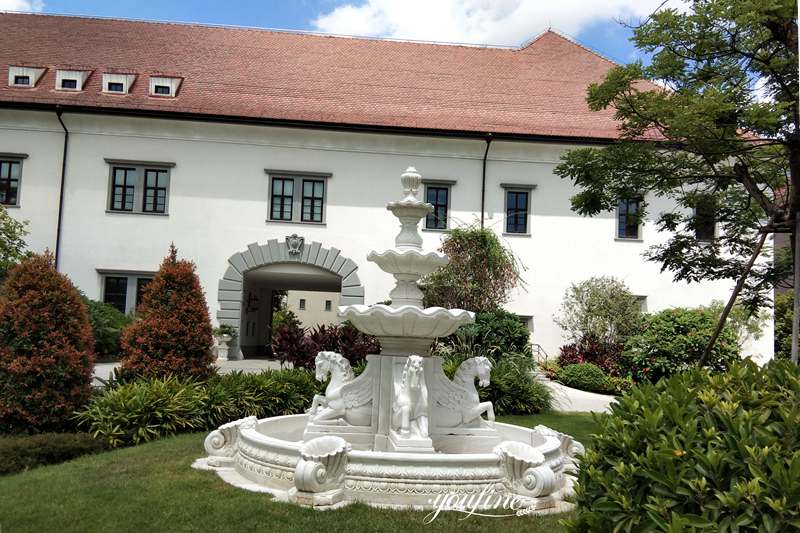 I hope that our guide would help you to choose a suitable marble fountain for garden. If you still have any questions, you could always consult us. We are happy to help you.
---