8 Word Famous Large Modern Stainless Steel Sculptures Introduction
---
Abstract:
The stainless steel sculpture is one of the most popular outdoor sculptures in modern times. They have a unique and trendy design style that fits the aesthetics of the modern younger generation. And with the development of industrial technology, high-quality stainless steel materials have extremely high corrosion resistance and high-temperature resistance. Therefore, the long service life is also one of the reasons why people love stainless steel sculptures. Now, we will introduce you to 8 world-famous stainless steel sculptures.
Cloud Gate:
Cloud Gate is a public art sculpture designed by British artist Anish Kapoor. Kapoor said this work was inspired by liquid mercury. It is located in AT&T Plaza in Millennium Park in the Loop District of Chicago, Illinois, USA. Cloud Gate was constructed from June 2004 to May 2006. This work is 20 meters long, 13 meters wide, and 10 meters high. The highest point of the arch bottom is about 4 meters above the ground and weighs 100 tons. Although Cloud Gate is welded from 168 stainless steel plates, its surface is so smooth that visitors can see the city's silhouette reflected and distorted on it, but the seams are completely invisible. In addition, the base of the statue is a concave space called "omphalos" (Greek for "center") that distorts and overlaps the image.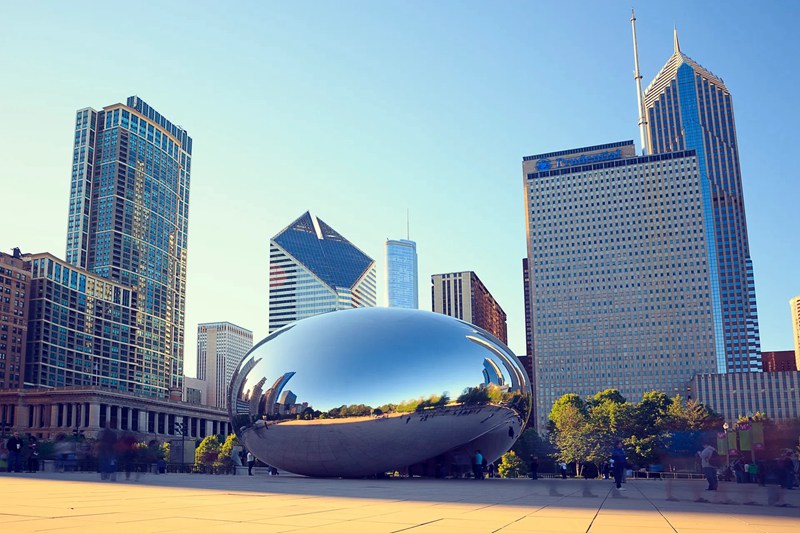 Metalmorphosis:
Metamorphosis is a large (7m, 13t) human head kinetic sculpture created by Czech artist David Černý. Located in the Whitehall Corporate Center in Charlotte, North Carolina, the sculpture was inaugurated in 2007 in a large reflecting pool. This piece is made of polished stainless steel. The sculpture consists of 40 layers, hinged into 7 pieces that can be rotated individually. Originally, the sculpture could spew water from the mouth of the head. A later larger work, the head of Franz Kafka, was made of 45 tons of steel and is now in Prague.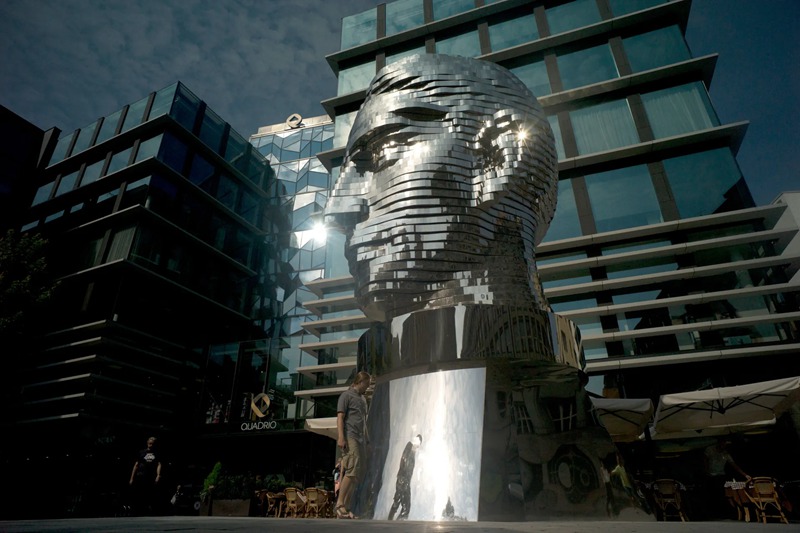 Balloon Flower:
Balloon Flower is a public sculpture created by renowned sculptor Jeff Koons. Jeff Koons' sculptures based on a balloon twisted into the shape of a purplish-pink open flower have become one of the most influential artists with their massive scale, mirrored surfaces, and gorgeous magenta. Not only is the magenta version a unique color to the other four Balloon Flower pieces, but it is also the only one to be painted in shades that carry both realistic and artificial associations. Balloon flowers (magenta) seem to be inspired by the shapes of flowers in nature, but push the boundaries of industrial manufacturing with their many features. Koons exploits his repeated use of flower forms while achieving his most striking work to date. In doing so, the sculpture optimistically pays homage to moments and objects associated with life's celebrations and recurring events such as birthdays and holidays.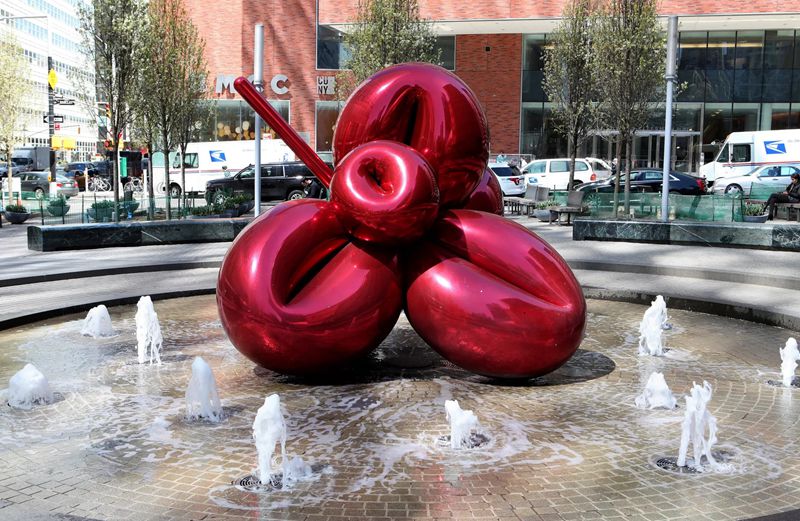 Digital Orca:
Digital Orca is a killer whale sculpture created by Douglas Coupland in 2009 and installed next to the Vancouver Convention Centre in Vancouver, British Columbia. The digital orca sculpture is made of steel and covered in powder-coated aluminum. Its surface consists of black and white blocks used to represent the pixels of a computer display. Coupland created the whales to evoke the history of the harbour area and to showcase a common sight on the west coast – the killer whale. The digital orca sculpture acts as a sculptural conduit, allowing viewers to travel between the past and the future, and to marvel at the people and events that create Vancouver's thriving harbour culture along the way.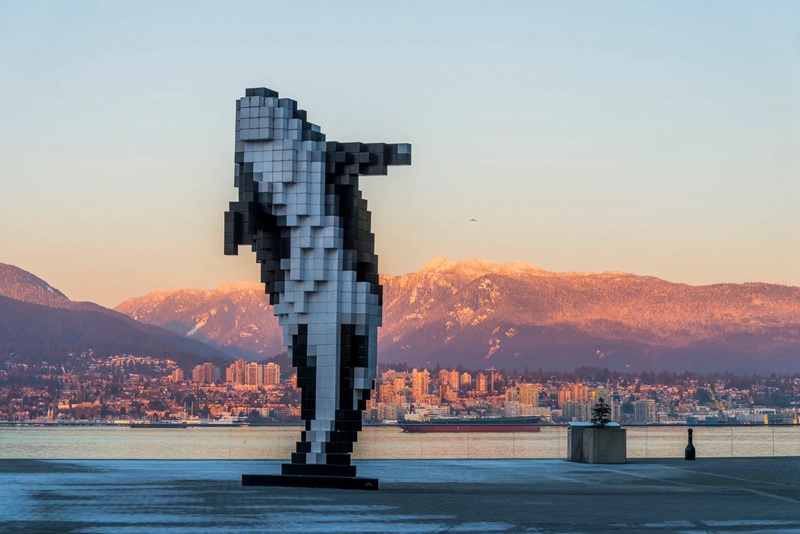 Spoonbridge and Cherry:
Spoonbridge and Cherry is a sculptural fountain designed by Claes Oldenburg and Coosje van Bruggen. It is located in the Minneapolis Sculpture Garden. Completed and installed in 1988 for the opening of the sculpture garden, the piece consists of a large cherry, resting on a large spoon, partially across a small pond. The cherry in the work was Van Bruggen's idea, and he wanted to use it to change the otherwise dull layout of the garden. Spoonbridge and Cherry are great examples of sculptural proportions. This is a giant scoop version that you can use for an ice cream sundae, but the end of the scoop could be a seat! This unique design draws a lot of attention to this artwork.
Singing Ringing Tree:
The Singing Ringing Tree is a wind-powered sound sculpture resembling a tree in the landscape overlooking Burnley in the Pennine Mountains, Lancashire, England. It was designed by Tonkin Liu architects Mike Tonkin and Anna Liu and completed in 2006. The project aims to erect a series of 21st-century landmarks in East Lancashire as symbols of the renaissance of the region. The Ringing Tree is a 3-meter (10-foot) tall building composed of galvanized steel tubing that harnesses the energy of the wind to create a slightly jarring and penetrating chorus sound.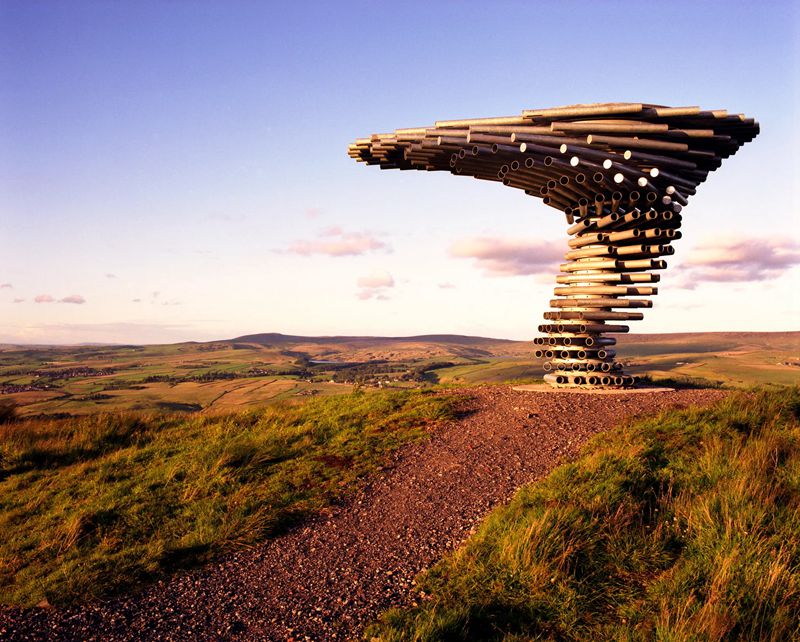 The Kelpies:
Kelpies are 30m high (98ft) horse head sculptures depicting kelpies (transfiguration water sprites) located between Falkirk and Grangemouth. The sculptures were designed by sculptor Andy Scott and completed in October 2013. Designed to connect 16 communities in the Scottish Falkirk council area. The origins of Kelpies are thought to be rooted in human sacrifices to the water god, but the concept eventually died out, and Kelpie stories were later used to prevent children from playing near lakes and dangerous rivers. It also encourages women to be wary of good-looking strangers.
Nelson Mandela:
The head sculpture of Nelson Mandela is located in South Africa where Howick Mandela was arrested. This sculpture is one of Marco Cianfanelli's most famous works. Cianfanelli combines computer-generated data-driven applications with expressive human gestures to create tension in his work. Nelson Mandela was South Africa's anti-apartheid revolutionary and political leader who served as South Africa's first president. His administration is committed to eradicating the legacy of apartheid by addressing institutionalized racism and promoting racial reconciliation. He is globally regarded as a symbol of democracy and social justice and has received more than 250 honors, including the Nobel Peace Prize.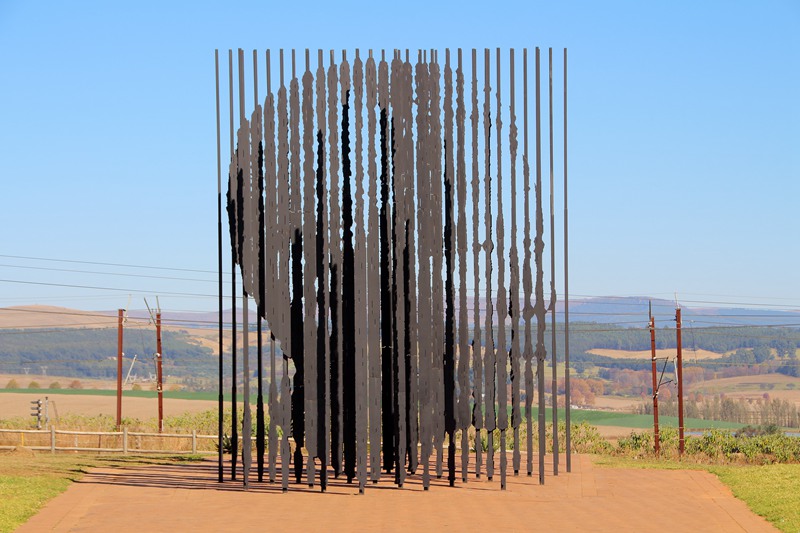 These famous stainless steel sculptures could be made by YouFine factory. YouFine could not only make them have good quality assurance, but also provide you with a relatively cheap price. If you are interested in our large stainless steel sculptures, please feel free to contact us.
---