Realistic Bronze Football Player Sculpture Factory Supplier
This exceptional football player sculpture combines the artistry of our skilled craftsmen with the passion and energy of football, capturing a sense of movement and determination that will captivate both sports enthusiasts and art aficionados alike.
Item No: BOK1-484
Material: Antique Bronze
Size: Life Size or Customized
Superiority 1: Free Custom Made
Superiority 2: Foundry Supplying Directly
Get Price
Product Details
Company Profile
Inquiry
FAQ
This bronze football player sculpture exudes a palpable sense of movement, capturing the intensity, agility, and drive inherent in the game. Every muscle and sinew is delicately sculpted, imbuing the artwork with a lifelike energy that brings the player to life. From the intricate details of the player's pose to the expression of focus and determination on their face, this sculpture truly captures the essence of the football spirit.
Unrivaled Quality Craftsmanship:
At YouFine, we take immense pride in our commitment to producing the highest quality bronze sports statues. Our factory boasts a legacy of craftsmanship spanning decades, and we uphold rigorous standards throughout the production process. Each sculpture is meticulously cast using premium bronze materials, ensuring durability and an exceptional level of detail that stands the test of time. From the initial design concept to the final finishing touches, our skilled artisans pour their expertise and passion into creating masterful works of art.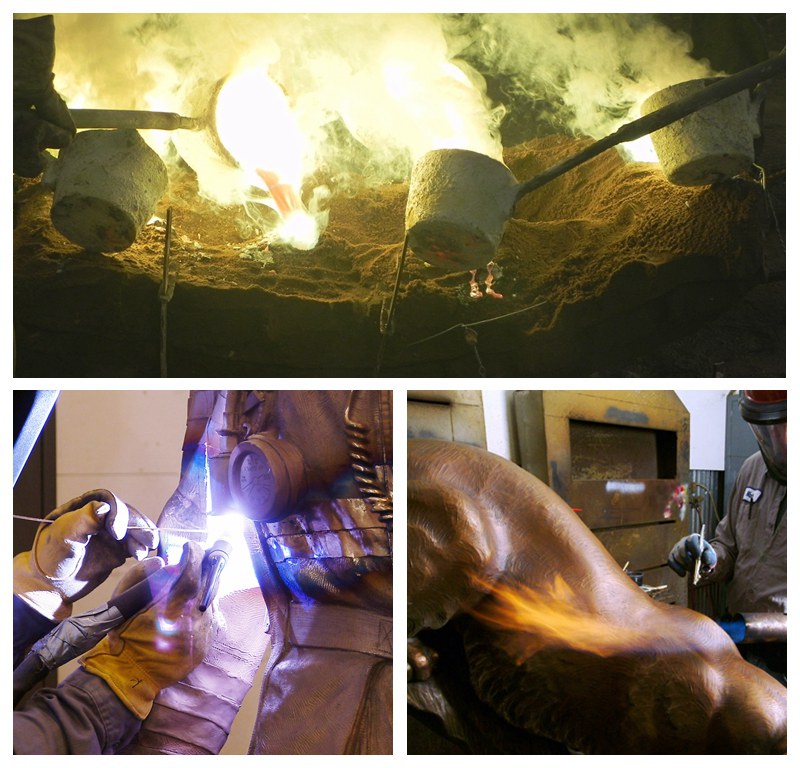 The Beauty of Patina:
Enhancing the allure of our bronze football player sculpture is the application of the renowned patina coloring method. This meticulous process involves the application of various chemicals to the sculpture's surface, resulting in a beautiful, natural-looking patina finish. The patina not only enriches the sculpture's visual appeal but also provides protection against environmental elements, ensuring its longevity and resilience. The carefully crafted patina adds depth and character, accentuating the intricate details and highlighting the sculpture's artistic merit.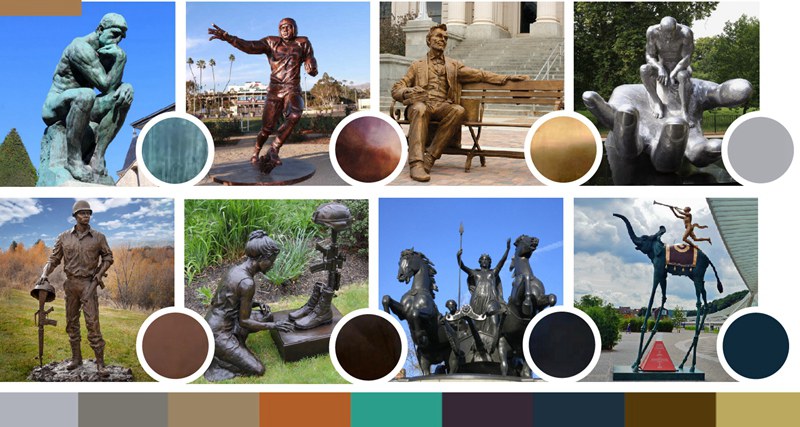 Provide Personalization and Customization:
At YouFine Factory, we understand the value of creating truly unique and personalized artwork. With our private customization services, you have the opportunity to make this bronze football player sculpture truly your own. Imagine replacing the face with that of your favorite player or immortalizing yourself or a loved one in the form of a football icon. Our talented team can bring your vision to life, working closely with you to create a bespoke masterpiece that reflects your individuality and passion. Alternatively, explore our range of sports-themed bronze sculptures and discover a new favorite to grace your collection.
If you are interested in this bronze football player statue or want to custom a new bronze sculpture, please feel free to contact us.
Who We Are 
As a world-leading sculpture supplier and a famous brand in China, You Fine Sculpture is an expert in sculpture designing and manufacturing.
The company has more than 400 employees, including more than 80 sculptors, 28 senior art artists, and art designers, 3 national sculpture artists, and 2 professor-level art supervisors.
High quality and professional services are the lifelong pursuits of the YouFine factory. The staff in the YouFine factory would make full use of their professional skills and provide you best products and service.
All of our artists have rich experience in their specialized field and they treat every artwork with a strict standard. Masters have been divided into different teams according to their specialty, and the factory promised that different sculptures would be manufactured by professional masters.
With many years of experience, our team of designers, artists, and master craftsmen can provide the perfect natural stone products that you will enjoy for years to come, where quality work and customer service are the top priorities.
Specialized in hand carving, sculpturing, fabricating, and producing a full line of elegant stone products such as hand-carved marble figure statues, carved marble fireplaces, fabricated marble fountains, marble columns, marble gazebos, and especially famous Catholic sculptures supplies.
Our Specialization
Hand Made: All our marble handicrafts and antique products are handcrafted by professionals.
Crafted with perfection: The perfection in carving and sculpting enhances the beauty of handicrafts in making. Our professionals leverage their honed skills in making timeless pieces for clients.
No Mediators: We produce and supply our handicrafts to customers.
Our customized creations are truly one-off pieces that translate the incredible thematic vision of the architects and designers we work with into tangible pieces of art. We understand the creative process and help it evolve to another level altogether.
Our Promise
is to create inspiring sculptures that are visually satisfying and impressive for everyone who engages with your space.
We are producers and manufacturers of sculpture, whether traditional or revolutionary, from concept to on-site fitting, our factory and artisans will produce a solution for all your decorative manufacturing requirements, by one team, under one roof.

If you have any questions about what we can offer then please call us at our Lancashire Head Office on +86-139-3848-0725 where our knowledgeable team will be able to help you. Alternatively, leave us a message below, and we will get back to you.
If you have a design idea already in mind for a custom make then you could send a rough sketch or image along with the basic dimensions required to sales@you-fine.com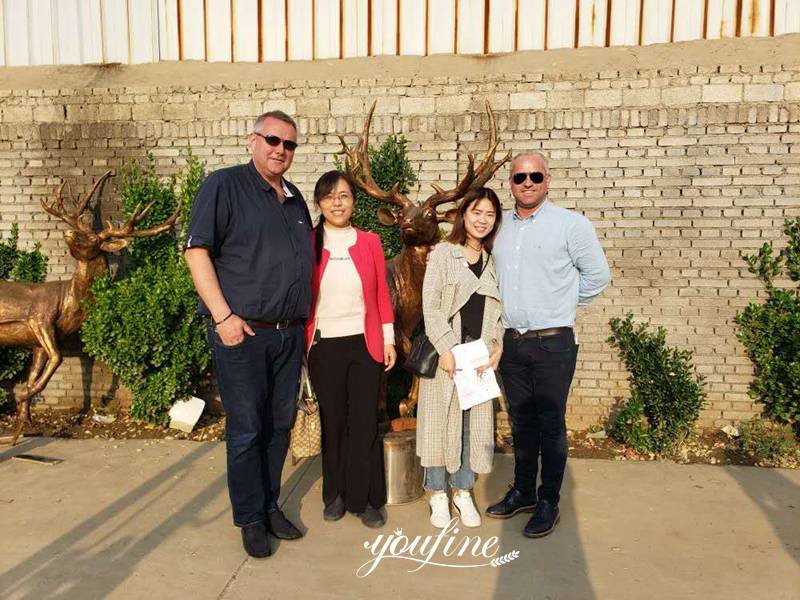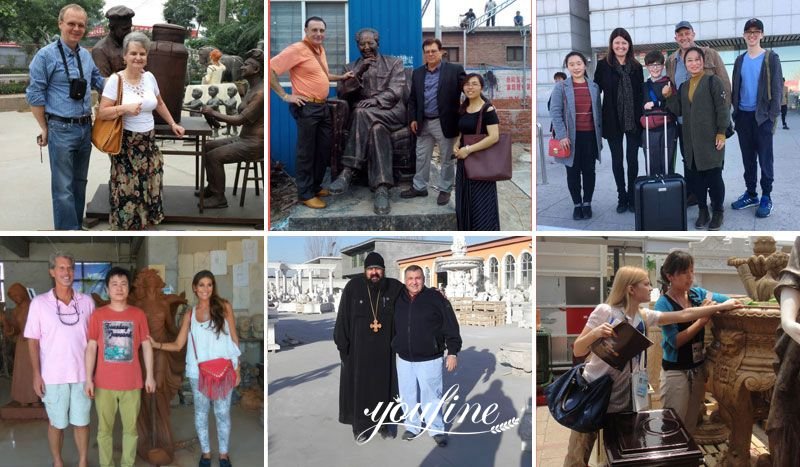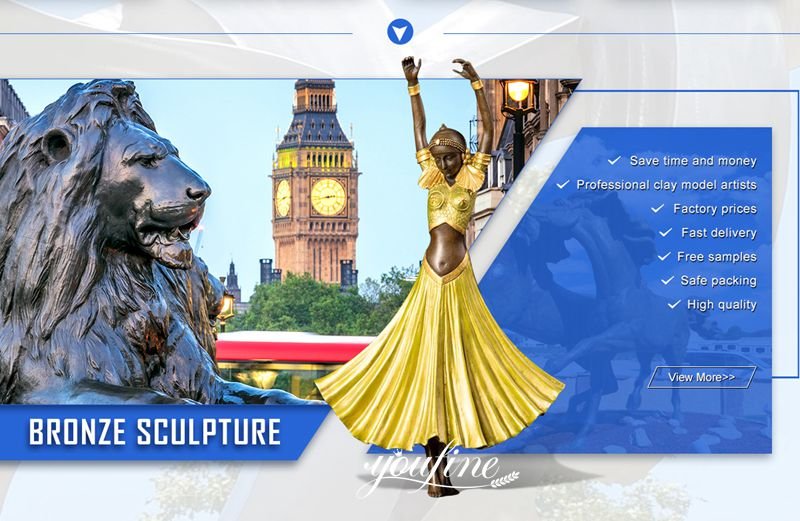 ■ Contact the online customer service
■ Send an email to sales@you-fine.com
■ Leave your contact in detail and requirements in the message box at the bottom of the page,
Our project manager and engineer will contact you within 24 hours.
Pls feel free to contact us , Our sales team will reply within 7 hours:
Q1:How to buy a marble fountain?
1.Contact us first to confirm the fountain style,material and size.
2.We calculate the exact price and confirm the order by invoice.
3.We arrange the productin after your deposit.
4.We send finish install fountain photos,after your approval,we arrange the shipment for you.
Q2: Shipments ?
1) Express Delivery (Doorway)
You must evaluate the cargo for heavy sculptures and the cargo should be assessed by case, but this is the shortest shipping method.The delivery time is 4-5 business days (not included on weekends).
2) Airport to Airport
The shipping method is suitable for a large amount of luggage that requires rapid delivery, but the customer must perform customs clearance.The shipping rate in this way is less than the express delivery of a large parcel.
3) Seaport to Seaport
As for sculptures from,generally, shipping via the sea is relatively cheap, so you may want to go this way, but shipping will take about four weeks
If your order has already shipped or production started, please see our Returns policy for further instructions. Any questions or unclear point you have . PLS contact with us.
Q3:When I'm Ordering it asks me for a patina/finish, what is this?
A Patina/Finish is the coloring choice you have available for your purchase.  Each item is available only in the colors that are shown on each product page.  Each manufacturer has their own selection of finish options.
Q4:I'm not sure which color to choose, am I able to receive samples before I order?
Yes, many of our manufacturers will send color samples.  There is a small fee (ranging from $10-$30 per color selection) plus shipping charges for most color samples sent.
Q5:I looked at a finish on my tablet and then on my computer, and the colors look different, why?
It is important to remember that colors may appear differently between different media types and monitors.  If you are unsure about your color selection, please call customer service at 0086 13938480725 for assistance.
Q6:Do you offer any coupons or discounts?
Yes, We often have monthly, weekly, or daily deals.  Be sure to sign up for our newsletter, content with us on Facebook, google plus, or follow us on twitter to receive updates of our current promotions!